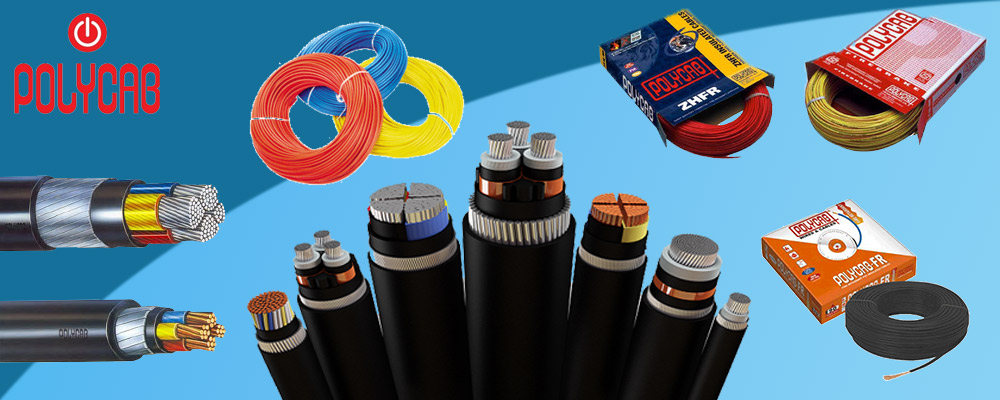 We are one of the leading Supplier of entire range of Polycab Wires & Cables which are designed to service the Residential, Commercial & Industrial application. We are offering wide range of HT & LT cables. These are manufactured by reputed organization using latest advanced technology & High quality raw materials.

These wires & cables are available in various specification to suit the different requirement of the client. The offered wires & cables are Fire retardant , Moisture resistance, having High Insulation & Low dielectric losses.


OUR QUALITY POLICY:
Best Quality Product
Technical Assistance
Customer Satisfaction
Building Customer Loyalty
Long Term Association
FEATURES:
Abrasion proof
Precisely designed
Durable finish standards
CABLES
ENERGY CABLES
This is used for transmission and distribution of electrical energy from the source of electrical power to the desired location mostly through underground, surface or overhead route. The conductor mainly transmits current where insulation withstand the high voltage. The external weathering condition is taken care by polymeric sheath.
SPECIAL CABLE
These are speciality cables used in highly complicated operation area and in severe weathering condition to make all sophisticated instruments operational.
COMMUNICATION CABLE
This is used for transmitting of analogue/digital data, signal from the source to the receiver end. A highly conductive screen is applied to supress the external noise and facilitate to transmit a distortion free signal for excellent communication.
WIRES
PVC INSULATED INDUSTRIAL CABLES 1100 VOLTS
ENERGY EFFICIENT WIRES RANGE 0.75 SQ.MM TO 16 SQ.MM WITH DIFFERENT INSULATION PROPERTIES
The Power of Green:
With the rise in global warming the world needs wires that are eco-friendly, safe and delivering high performance. Combining breakthrough engineering with meticulously selected materials, Polycab has introduced 'Green Wires' conforming to stringent European norms in environmental sustainability and cable safety. The Polycab Green Wire is energy efficient, recyclable, is RoHS compliant, has low smoke density and emits fewer toxic gases in extreme fire situations, thus making it the preferred choice for Green Buildings.
ETRIRA – FLAME RETARDANT
ETIRA Single Core FR wires are made with the highest grade electrolytic copper & incorporate FlameStop insulation technology, keeping your family safe from electrical accidents and fire emergencies. It is ideal for wiring in closed confined spaces and applications that require high flexibility. Suited for both indoor and outdoor installation in applications that require working voltages upto 1100V.